ARTIFICIAL INTELLIGENCE

MAKE IT FAST
GENERATIVE AI CREATES UNIQUE UNLIMITED TEXT & IMAGES FOR YOUR WEBSITE IN SECONDS!
GENERATIVE AI
instant UNIQUE CONTENT CREATION
UNLIMITED TEXT
Unique professionally written copy for your website
edit existing text
Edit and improve existing text, rewrite, lengthen, shorten, & so much more!
unlimited images
Generate unlimited unique images for your website
improve images
Improve, change and reimagine existing images on your website.
CONTEXTUAL CONTENT
Generative AI creates content relevant to the actual page.
incredibly fast
Keep your website updated with new fresh content, helps keep users engaged.
WHAT IS GENERATIVE AI AND HOW WILL IT HELP MY BUSINESS?
At Zero Degreez Design, we believe in leveraging cutting-edge technology to elevate your business to new heights. That's why we're excited to introduce you to Generative AI, a revolutionary tool that is set to transform the way you operate.
Generative AI is a branch of artificial intelligence that focuses on creating content, ideas, and solutions autonomously. By harnessing the power of advanced algorithms and machine learning, Generative AI has the ability to generate unique and high-quality outputs, such as images and text.
Let's explore the possibilities:
1. Enhanced Content Creation:
Generate compelling and engaging content effortlessly. From blog articles and social media posts to product descriptions and email newsletters, Generative AI can assist in producing unique and captivating content that resonates with your audience.
2. Turbo Speed Content Creation:
Our Generative AI technology creates new professionally written content in seconds and also improves or edits existing content to be contextually relevant to the page. Unique images are created within seconds and can be instantly reimagined, or improved.
4. Create your own text copy and images:
Let our Generative AI technology improve, reimagine or rewrite in certain styles (informative, humorous, etc.) to fit your business.
4. Save enormous amounts of time:
With Artificial Intelligence, the speed of content creation has to be seen to be believed.  Imagine the time it would take to create even one original page of content. All of this time saved can be used instead to further develop and promote your business, to help it grow and succeed. Or even to take a well needed break for the perfect work life balance!
UNLIMITED USAGE!
Generate Unlimited Text and Images
Engage in seamless idea collaboration with Generative AI, just as you would with any other team member. Experience the benefits of unlimited text and image requests, empowering you to work without interruptions.
ENDLESS POSSIBILITIES
With Generative AI, the possibilities for your business are endless. Unlock the potential of this groundbreaking technology and stay ahead of the competition.
AI is embedded in our Visual Editor therefore you will be able to generate unique text and images directly on the page, and visually edit for simple, quick updates.  AI allows for unique content creation in a fraction of the time.
Contact us today for a free consultation and discover how Generative AI can transform your business immediately!
TURbo charge your website!
 EFFORTLESS CONTENT CREATION
Our Generative AI technology brings you something incredible – embrace the future of AI and it will change the way you work forever! 
Use Generative AI As Your Copy Editor And Improve YOUR Existing Content, or write fresh content With A single Click
Whether you need to fine-tune the tone, adjust the length, enhance clarity, or ignite creativity, Zero Degreez Design empowers you to effortlessly refine your content until you achieve the desired outcome. With our intuitive platform, you can explore various variations, experiment with styles, and tailor your content to captivate your audience.
Give Your Existing Website Content a Professional Makeover
Let Divi AI take control, seamlessly rewriting headings, paragraphs, calls to action, buttons, and more. From enhancing readability and translating languages to correcting spelling, grammar mistakes, and improving tone, Divi AI has you covered. It's like always having a professional copy editor at your side.
Click on existing text module or create a new blank one. Then click AI button (top right) to go to text generate panel.
Choose the type of text you want to generate, eg. improve, lengthen, change tone, translate, etc.
unique images created in seconds with generative ai!
To create AI image, click on the AI button (top right) on  image module in your website Visual Editor.
Click the required action, eg. Generate with AI, Reimagine, Change Style, Improve, etc.
Choose image style, dimension and type your text description of the image you would like.
Images will be generated, you can generate more, change style, or select a generated image to use.
sample images created with generative ai!
AI ASSISt
ENHANCED CONVERSATIONS WITH YOUR CUSTOMERS
Introducing our AI Chat Assistant – the newest addition to Zero Degreez Design! Enhance user engagement and provide highly accurate, articulate conversations with your customers. Our AI Assistant is here to revolutionise your business experience.
NEVER MISS A CHAT
Schedule AI Assist 24/7/365 or set to your preferred times when operators are offline.
USE WITH ANY DEVICE
Monitor and message from any device wherever you are inside or outside the office.
no ai training needed
AI Assist uses existing website content to quickly learn about your business.
INTELLIGENT & FAST
AI Assist is smart and quick – your customers receive near instant & accurate replies!
AI + HUMAN OPERATORS
AI Assist works alongside your own operators who can quickly take over a chat in real time.
always ready
AI Assist never tires or needs a break, and can work around the clock!
AI ASSIST IS HERE!
Revolutionise your interactions with customers.
Introducing AI Assist – the perfect companion for your business at Zero Degreez Design. Enhance your customer interactions with our innovative AI Chat Assistant, ensuring highly accurate and articulate interactions. With 24/7 availability, seamless integration across devices, and the ability to learn from your existing website content.
AI Assist is here to revolutionise your business experience. With fast accurate responses based on your unique website content. Experience the benefits of instant replies, collaboration with human operators, and the convenience of an AI Assistant that never tires or needs a break. Discover the power of AI Assist today and take your business to new heights.
 AI Bot
Accurately and instantly answer customer questions based on your data.
 Zero setup required!
You won't have to train it or create new content. Simply turn it on, and the AI Bot starts answering customer questions. It's like magic!
 Never miss a chat
With Apollo AI Bot, your chat is online 24×7-365 and ready to answer your customer queries — no matter how complex!
 Complete control
Human agents can monitor and take over Bot conversations in real time. You're in control.
Contact us today and discover the endless possibilities. we transform your business for success.
CONTACT FORM
Find out how we can transform your business, with amazing AR Print, AR AI Web design, Augmented Reality and Artificial Intelligence technology. We look forward to working with you!
FREE CONSULTATION
Book online now for your FREE 30 minute consultation with us
 This could be the start of something amazing!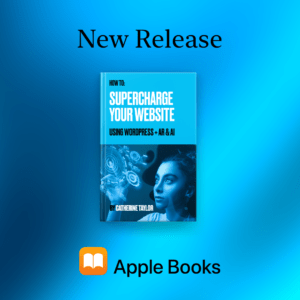 NEW RELEASE!
From Apple Books and Amazon Kindle
We have published this book as a comprehensive roadmap designed to help both newcomers and experienced users. It will help you to understand how to both create and manage amazing and successful websites using WordPress. Also included are several sections  on how to supercharge your website with Augmented Reality and Artificial Intelligence. Much of the information also applies to Web Design in general, regardless of the platform you are using.
Download 'Supercharge Your Website' today!
WHAT WE BELIEVE
Make it DIFFERENT
Make it FAST
Make it BEAUTIFUL
Make it WORK
WHERE WE ARE
LONDON SW16
UNITED KINGDOM