AR Flyer/poster DESIGN
Bringing Print to life with sound, music, animation, film and interaction!
AUGMENTED REALITY PRINT
PRINT COMES ALIVE WITH DIGITAL MEDIA!
Animation
Create a print experience!
INTERACT
Digitally Interact on the page!
interactive
Interact digitally with print.  Trigger actions by clicking on objects in AR content.
weblinks
You can click on the link to the website and it will go directly to the site or shop.
3D MODELS
3D models can be viewed in your own space! Great for e-commerce product visualisation.
IMAGES
Slideshows of products are readily available to view directly from the print.
CONTACTS
Include extra contact information, which can be updated remotely, no need for a reprint.
calendar
Digital calendars of events can download to your own calendar.
sound & MUSIC
Sound, narration, music, etc. can all be embedded and played directly from the print.
video/animation
Video & animation: view content that magically appears as if on the actual print.
AR PRINT FLYERS
Open your mobile device camera and scan the QR Code on the FLYER DESIGN, click to activate the in browser Web AR app, and hold over the full image.  You will see the interactive AR content appear!
AR FLYERS/POsters
Augmented Reality enhancement allows the user to interact digitally with flyers and posters.

Sound/music plays plus animation and film content are readily available to view.

You can click on the link to the website or shop and it will go directly to the site, where uses can find information, interact and purchase.

You can instantly email, or dial a phone number with one click without having to access your phone records.

There are even digital calendars that can link to your own calendar and automatically create a calendar entry with all the information.

With one click, you can download all of the contact information from the banner and save directly to your phone in an e-card.

View interactive slideshows of products. 

A video clip also plays to create an exciting display that you could not experience with print design alone.

AR technology allows all of this and more – create an exciting experience from a traditional promotional flyer or poster and impress your customers and hold their interest.  Perfect for use in any place where you want to stand out from the crowd!
COMPLETE PACKAGES AVAILABLE
Includes all AR Design, Graphic Design of FLYER/POSTER, Print & FREE UK Delivery.
Please contact us for a quote for pricing on our packages.  There are generous quantity discounts for larger print quantities.
VARIETY OF PAPER TYPES AVAILABLE, INCLUDING: SILK | GLOSS | BOND | PULP | CRAFT (from 130 gsm – 350 gsm)
Contact us today and discover the endless possibilities. we transform your business for success.
CONTACT FORM
Find out how we can transform your business, with amazing AR Print, AR AI Web design, Augmented Reality and Artificial Intelligence technology. We look forward to working with you!
FREE CONSULTATION
Book online now for your FREE 30 minute consultation with us
 This could be the start of something amazing!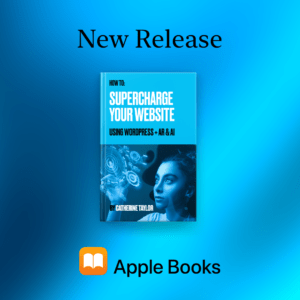 NEW RELEASE!
From Apple Books and Amazon Kindle
We have published this book as a comprehensive roadmap designed to help both newcomers and experienced users. It will help you to understand how to both create and manage amazing and successful websites using WordPress. Also included are several sections  on how to supercharge your website with Augmented Reality and Artificial Intelligence. Much of the information also applies to Web Design in general, regardless of the platform you are using.
Download 'Supercharge Your Website' today!
WHAT WE BELIEVE
Make it DIFFERENT
Make it FAST
Make it BEAUTIFUL
Make it WORK
WHERE WE ARE
LONDON SW16
UNITED KINGDOM