AUGMENTED REALITY

MAKE IT DIFFERENT
PRINT COMES ALIVE WITH SOUND, VIDEO & INTERACTION!

SHOW YOUR 3D PRODUCT MODELS IN YOUR OWN SPACE! 
AUGMENTED REALITY PRINT
PRINT COMES ALIVE WITH DIGITAL MEDIA!
Animation
Create a print experience!
INTERACT
Digitally Interact on the page!
SO, WHAT IS AUGMENTED REALITY?
Augmented Reality is part of an exciting set of new media technologies. Including Virtual Reality and Mixed Reality, these new technologies are set to change the way we work and experience design forever. AR fuses the digital and real world together, static print becomes like a screen, with sound, video and interaction. It works through your mobile device camera and is activated by scanning a QR code which takes you to the experience. When you look at the printed page or object through the mobile device camera you will see it come to life!
how will augmented reality PRINT help my business?
Add AR to your existing print media to save money or we can also create new print designs.
It is cost effective, with updatable digital content. This means you can make any changes easily in the future.
Increase brand awareness with impressive interactive roller banners and business cards.
Transform any new or existing Print design. (Business Cards, Flyers, Posters, Brochures, etc.)

You can make your brand stand out and be memorable.

Add high tech functionality to low tech print.

Experience both the aesthetics of Print with the function of Digital!
NO APP NEEDED!
NEW Web AR means no need to download an app.
Web AR works in the mobile browser. Just scan the QR code on the printed item to access the browser based app and watch the AR experience!
Increase user engagement

65%

65%

More interaction with your brand

85%

85%

Consumers who agree that AR adds to shopping/brand experience

54%

54%

AR branding is more memorable than TV or Online

70%

70%
VIEW 3D PRODUCT MODELS IN YOUR OWN SPACE!
DIRECTLY FROM THE WEBSITE USING AUGMENTED REALITY - 3D WEB AR
3D WEB AR
VIEW 3D MODELS IN YOUR OWN SPACE DIRECTLY FROM THE WEBSITE
BROWSER
Works in the browser for a seamless experience
SHARING
Easily share 3D AR product models with just one click!
convert
Make more product sales with AR view in your space
3D WEB AR
SO, WHAT IS 3D WEB AR?
*AR QUICK LOOK/AR SCENE VIEWER
3D WEB AR technology will allow your customers to view products in both 3D 360° rotation and Augmented Reality.
You will be able to see photorealistic 3D product models on desktop and in AR on a mobile device; even send models to a friend.
The technology works within your browser.  This means a seamless experience as no app is needed. (* currently available using Safari Browser on iOS 12+)
AR SCENE VIEWER is available for both Android and iOS mobile devices and also provides for a 3D model view on desktop 
HOW WILL 3D AR WEB HELP MY BUSINESS?
Your business will stand out from the crowd.  Therefore, customers will be excited to return.

Your customers will have both a memorable and fun experience.  Also, it means you can show your products at their best.

It is perfect, whether you have a large or small catalogue.
The cost of implementation varies, but is affordable.  Mainly, the price is dependant upon the complexity of your 3D model.
This is truly the future of e-commerce. Available Now!
CAN I SEE A DEMO?
 Experience art in 3D in your own space with 360 rotation.  Hypar.co.uk have embraced this 3D Web AR technology throughout their store – a fantastic and seamless experience to enable customers to view art in their own space – seeing how artwork will look in a space is essential before investing – the 3D Web AR technology [AR Quick Look] now makes it possible to let the gallery or store come to directly to you!
For an AR SCENE VIEWER demo – which works on both Android and iOS – please go to the main 3D WEB AR page.
Contact us today and discover the endless possibilities. we transform your business for success.
CONTACT FORM
Find out how we can transform your business, with amazing AR Print, AR AI Web design, Augmented Reality and Artificial Intelligence technology. We look forward to working with you!
FREE CONSULTATION
Book online now for your FREE 30 minute consultation with us
 This could be the start of something amazing!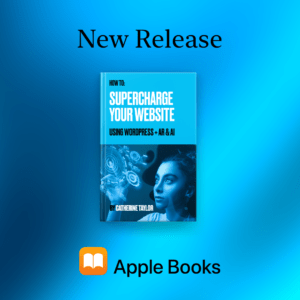 NEW RELEASE!
From Apple Books and Amazon Kindle
We have published this book as a comprehensive roadmap designed to help both newcomers and experienced users. It will help you to understand how to both create and manage amazing and successful websites using WordPress. Also included are several sections  on how to supercharge your website with Augmented Reality and Artificial Intelligence. Much of the information also applies to Web Design in general, regardless of the platform you are using.
Download 'Supercharge Your Website' today!
DOWNLOADS
E-BOOKS BY ZERO DEGREEZ DESIGN
We want to share our knowledge with you! We have over a decade's experience designing with Augmented Reality technology.
Augmented Reality
Catherine Taylor
Download Your
FREE

iBook

for iPad, iphone or Mac AVAILABLE NOW from Apple Books

"Augmented Reality technology has a wealth of uses and applications... Discover how print design can be magically enhanced with Augmented Reality."

Author: Catherine Taylor

Publisher: Zero Degreez
NEW RELEASE!
This book is a comprehensive guide designed to help both newcomers and experienced users to create amazing and successful websites using WordPress with AR & AI.  
FROM CODEX TO CODE
Catherine Taylor
Download Your 
FREE

 iBook

for iPad, iphone or Mac AVAILABLE NOW from Apple Books

"I have researched Editorial Design and how the way that we read and interact with 'the page' is changing by looking at Interactive Digital Design, Print Based Augmented Reality ..."

Author: Catherine Taylor

Publisher: Zero Degreez
WHAT WE BELIEVE
Make it DIFFERENT
Make it FAST
Make it BEAUTIFUL
Make it WORK
WHERE WE ARE
LONDON SW16
UNITED KINGDOM