Augmented Reality Print Design
Print designs come alive with animation, VIDEO, sound, 3D and interactivity!
BUSINESS CARDS, BANNERS, BOOKS, GREETING CARDS & MORE
AUGMENTED REALITY PRINT
PRINT COMES ALIVE WITH DIGITAL MEDIA!
Animation
Create a print experience!
INTERACT
Digitally Interact on the page!
Enhancing Print with AR
Most people prefer reading in print rather than on screen. Print is easier on the eyes and more visually appealing. The tactile experience of holding a book, magazine, or piece of paper adds to its aesthetic value. However, the use of mobile apps for internet access has been rapidly increasing.
Combining print and digital media creates a hybrid product that offers the best features of both worlds. This is a win-win situation for all. The concept of interactive print allows for the addition of digital content while maintaining a fresh and uncluttered print design. With this, customers can easily make purchases with just one click, directly from their business cards, banners, or packaging. Zero Degreez Design embraces the possibilities of enhancing print with digital interactivity.
WHAT AR CAN ACHIEVE 
What is Augmented Reality?  Simply put, it is a digital overlay of computer graphics, text, video and audio on top of a real world view. This is experienced through a smartphone or tablet camera and a free app. In summary, this makes Augmented Reality a new and innovative communications medium!
THE
NEW
PRINT REVOLUTION
The use of Augmented Reality is the New Print Revolution! Firstly, it allows you to breathe new life into print. Secondly, it allows you to create strong links between print, digital and the real world.  In turn, this merges the permanence of print with the dynamic capabilities of digital. Now, just imagine the possibility of adding new updated content to a static print page…
BENEFITS OF USING AUGMENTED REALITY
Print designs come alive with animation, film, sound, music and interactivity!

A fusion of digital and print means you can increase user engagement!

Excite your customers and remain incredibly memorable!

No App needed! Your customers can now simply scan with their device camera to view your digital content directly on the print design, whether it is a banner, business card, poster, greeting card, book, magazine, packaging design or t-shirt.

We can design new print products or enhance your existing material.

We can design the digital content or use your existing material, whether images, video, sound, animation, etc.

All of this means that your customers will readily engage with your message and all importantly, remember!
GET AUGMENTED today!
GET THE BENEFITS OF AR FOR YOUR BUSINESS
DYNAMIC CONTENT
You can add or change digital content to update or enhance your existing AR print designs, without  having to reprint!  Easily add new information, statistics, images, sounds, video, links…
TOTAL FREEDOM
With AR Print you never have to worry about outdated content, you can keep your designs clean and free of clutter and you have the freedom to change or add digital content when you wish!
exciting & innovative
Increase user engagement and make your brand memorable and exciting by including AR across your range of print marketing; business cards, banners, leaflets, flyers, posters and more!
HOW TO GET STARTED!
Contact us for your FREE consultation
Gather together the existing print media (business cards, posters, flyers, magazines, books, etc.) that you wish to enhance or we can create completely new designs.
Decide what type of digital content you wish to incorporate, eg. video, 3D models, sound, animation, etc.
Decide whether you want to use new or existing digital media eg. sound, video, etc.
We'll provide you with a written estimate and proposal.
Say YES and we'll start work straight away!
Your designer will keep you informed throughout the process
Download your FREE iBook to discover more about AR
YOUR FREE CONSULTATION
We shall discuss with you the available options depending upon the type of print media you wish to use.  You will be able to see a live demonstration of what is possible using Augmented Reality! We can arrange an online Zoom meeting, or by email or telephone, whichever is easier for you and your schedule.
Augmented Reality enhancement will give your business the magic it needs to stand out from the crowd – we are excited to show you how!  Complete the contact form or book your consultation.
DOWNLOADS
E-BOOKS BY ZERO DEGREEZ DESIGN
We want to share our knowledge with you! We have over a decade's experience designing with Augmented Reality technology.
Augmented Reality
Catherine Taylor
Download Your
FREE

iBook

for iPad, iphone or Mac AVAILABLE NOW from Apple Books

"Augmented Reality technology has a wealth of uses and applications... Discover how print design can be magically enhanced with Augmented Reality."

Author: Catherine Taylor

Publisher: Zero Degreez
NEW RELEASE!
This book is a comprehensive guide designed to help both newcomers and experienced users to create amazing and successful websites using WordPress with AR & AI.  
FROM CODEX TO CODE
Catherine Taylor
Download Your 
FREE

 iBook

for iPad, iphone or Mac AVAILABLE NOW from Apple Books

"I have researched Editorial Design and how the way that we read and interact with 'the page' is changing by looking at Interactive Digital Design, Print Based Augmented Reality ..."

Author: Catherine Taylor

Publisher: Zero Degreez
Contact us today and discover the endless possibilities. we transform your business for success.
CONTACT FORM
Find out how we can transform your business, with amazing AR Print, AR AI Web design, Augmented Reality and Artificial Intelligence technology. We look forward to working with you!
FREE CONSULTATION
Book online now for your FREE 30 minute consultation with us
 This could be the start of something amazing!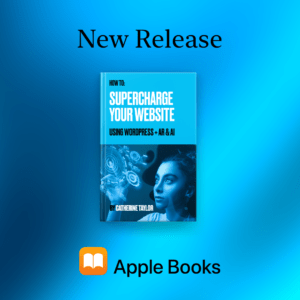 NEW RELEASE!
From Apple Books and Amazon Kindle
We have published this book as a comprehensive roadmap designed to help both newcomers and experienced users. It will help you to understand how to both create and manage amazing and successful websites using WordPress. Also included are several sections  on how to supercharge your website with Augmented Reality and Artificial Intelligence. Much of the information also applies to Web Design in general, regardless of the platform you are using.
Download 'Supercharge Your Website' today!
WHAT WE BELIEVE
Make it DIFFERENT
Make it FAST
Make it BEAUTIFUL
Make it WORK
WHERE WE ARE
LONDON SW16
UNITED KINGDOM